A pilot project-involving year 11 Ysgol Dyffryn Nantlle Pupils and Yr Orsaf Community Hub (see web link below).
Background
Ysgol Dyffryn Nantlle expressed an interest in offering a group of 6 year 11 pupils the opportunity to attend a Come and Cook course over 6 weeks. The Come and Cook course is one of the courses available as part of the Nutrition Skills for Life Programme, providing opportunities for members of the public of all ages to benefit from food and nutrition training. The Public Health Dietetic team delivers a range of courses across Gwynedd and Anglesey. Despite the fact that this was the first time the team worked within a secondary school, overall this proved to be a very positive experience for both tutor and participants.
The course was delivered in 'Yr Orsaf' – a community Hub in Penygroes that has been supportive of the work carried out by the local Dietetic Public Health Team over recent months.
Below is a picture of some of the participants who attended the course.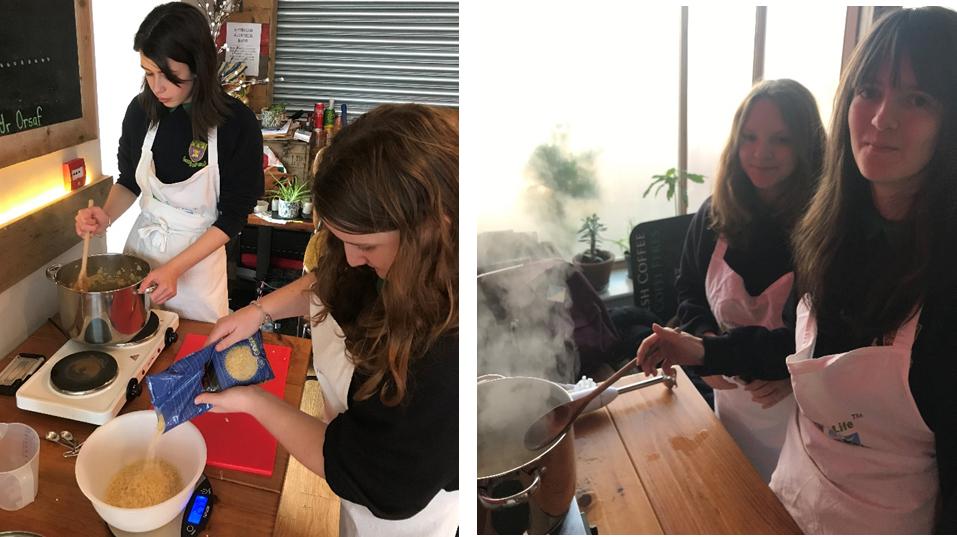 Course details
Come and Cook teaches nutrition and practical cookery skills in a relaxed and friendly environment. The course supports people to increase their confidence, knowledge and skills in preparing healthy, safe, and cost-effective meals for themselves and their families using a variety of cooking methods. The course is delivered in 2.5 hour sessions over 6 weeks and involves theory based learning and activities followed by a practical cooking session each week.
A range of meals were cooked over the course duration and pupils were able to take a portion home to try with their family. Pupils were encouraged to practice new cooking skills and recipes at home and were provided with a recipe book on completion of the course. New recipes that were particularly enjoyed by the group included quesadillas and leek and potato soup, the melting moments biscuits and pancakes were also a hit. Some of the participants enjoyed trying some foods for the first time including lentils, sweet potatoes, and spring onions.
All Nutrition courses provided by the public health dietetic team are free and the school funded the cost of the ingredients for this course which is usually between £100-120 for all ingredients for 6 participants for the 6 weeks.
Evaluation
Each participant received a certificate and short individualised constructive report at the end of the course that was appreciated by all participants. The course was very well evaluated with many expressing an interest in future sessions with the tutor.
Below are responses and feedback provide via the end of course standardised evaluation forms.
" I enjoyed this course"
All participants rated the course as good or excellent as well as reporting to be more or much more confident about preparing healthy food since attending the course.
When asked what is the most important thing they learnt reponses included – " how to keep healthy" and "how to cook from scratch not pre-bought"
School staff members reported that the course had been a valuable and enjoyable experience for the pupils and enquiries have been made about the possibility of running future courses with pupils and parents, which is an exciting idea.
Future plans
The Public Health dietetic team hope to be able to work with other secondary schools in the West to support Year 11 and sixth form pupils develop their nutrition and cooking skills in preparation for living more independently after leaving school. Other courses including 'Preparing a Healthy meal' and 'Eat Smart Save Better' sessions are suitable options for young adults. The team are currently planning future sessions and are in regular contact with the healthy schools team in both Gwynedd and Anglesey.
For more information, visit the Nutrition Skills for Life® website or our dedicated BCUHB page for details on all courses: Courses – Nutrition Skills for Life®
If you are interested in attending any of our courses or would like to discuss the possibility of our team running courses within your school, please call 03000 851750 or e-mail BCU.NutritionSkillsForLifeWest@wales.nhs.uk