A first of its kind mobile App has been launched to help support pregnant women with information from NHS professionals that they can rely on.
The App called Foodwise in Pregnancy, includes six sections to work through at your own pace with recipes, shopping tips and a meal planner, as well as step-by-step exercises ideal for pregnancy. The App also allows people to set goals throughout their pregnancy, record food and exercise activity, and includes interactive games, quizzes, and tools.
Public Health Dietitian Andrea Basu and dietetic colleagues from Betsi Cadwaladr University Health Board (BCUHB) have been working with Nutrition Skills for Life, which is an organisation made up of dietitians and nutritionists from Health Boards across Wales, to help plan, develop and review content for the App.
The App's release is timely as it responds to Insight research work within North Wales, led by Public Health Wales. The research highlighted that both expectant women and midwives would value an App to enable quick and easy access to current information on key topics like food and nutrition.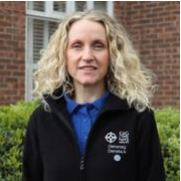 Andrea Basu, Service Lead for Public Health Dietetics for BCUHB, said: "I'm delighted that the Foodwise In Pregnancy App is now available and free to access. We've listened to what midwives and expectant mums have said they would like included to ensure the App has lots of fantastic features such as nutritious recipes, food safety advice, shopping and meal planning tips, a food and activity tracker, step by step safe exercises for pregnancy and much more!
"As dietitian's we hope that bringing together accurate and unbiased information into one place, and at the touch of a button will help women to access nutrition, physical activity and healthy weight advice to support them on their healthy pregnancy journey."
The Foodwise in Pregnancy App has been designed to improve access to practical healthy lifestyle information and aims to support women to eat well, be active and achieve a healthy weight gain during their pregnancy.
The Foodwise In Pregnancy App is free to download from Google Play or Apple Store.