PORTHMADOG children have benefitted from a mouth-watering new initiative.
Pictured right: The children of Meithrinfa Hen Ysgol Porthmadog with nursery owner Donna Maria Ojemeyi (centre) who have received their Tiny Tums Best Practice certificate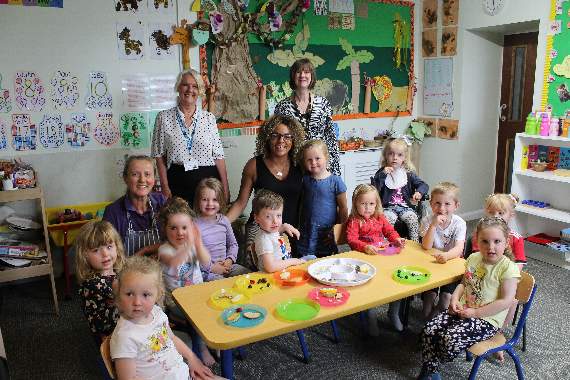 Children at nurseries in Gwynedd are now making use of a nutrition scheme developed and delivered by dietitians.
Meithrinfa Hen Ysgol in Porthmadog took part in the Tiny Tums programme which focuses on supporting carers of pre-school children to provide nutritious meals and snacks to support healthy growth and development.
The nursery has now received its Tiny Tums best practice award, which recognises settings that have completed training and whose menus and food policies meet Welsh Government guidelines on food and drink provision for the early years.
Beverley Fisher, Betsi Cadwaladr Health Board's public health dietitian for Gwynedd and Anglesey, said: "Attitudes towards food choice develop at an early age and play an important role in the eating habits of adults and the health of our future generations.
"Pre-school environments are an ideal place to introduce children to healthy foods because newly tasted foods are more likely to be accepted by two to four-year-old children compared to later in life.
"We aim to support local settings to make the healthy choice the easiest choice for children living in north Wales."
Donna Maria Ojemeyi, who is the owner of Meithrinfa Hen Ysgol in Porthmadog, said the healthier menu has been a huge success with the children.
She said: "The kids absolutely love the menu we have at the nursery, we make everything from scratch and make sure they have their five portions of fruit and vegetables every day.
"We've had lots of support from the dietitians at the health board, they have come down to see us and will go through the menu and to discuss ideas which has been really helpful.
"The Tiny Tums programme made me realise what exactly is in the food we eat, such as the salt and sugar levels.
"Having this extra information and support from the dietitians helped us to create a menu which provides the nutrition that young children need, even including foods such as oily fish which can sometimes be hard to get children to eat."