Community food projects
Find out more about community food projects that are running in your area.
Food for Life Get Togethers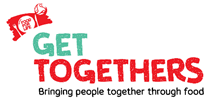 Food for Life Get Togethers are regular community activities that connect people from all ages and backgrounds through food. For more information please visit us here
Alternative Retail Projects

Alternative Retail Projects improve access and affordability to food and healthy eating through a sustainable way to benefit local communities.

There are a number of these projects across Cardiff and the Vale of Glamorgan and all work in a slightly different way.

As a team we work in partnership with these projects supporting them with Nutrition Skills for Life training.
Women Connect First

Healthy Body, Healthy Mind project. Our team works closely with Women Connect First (WCF) to provide up to date, evidence-based nutrition information which support women and their families from Black, Asian and ethnic minority communities to be healthy.
We deliver Level 2 Community Food and Nutrition Skills courses for both staff and volunteers working in WCF. This provides them with the nutrition knowledge and skills to pass on to the communities they support and can also become a tutor to deliver a range of Level 1 nutrition courses such as Get Cooking, Foodwise For Life and Community Food and Nutrition Skills.
We support the delivery of a number of school holiday family activities which engages children in the topic of good nutrition and getting them involved in preparing healthy food.
We ensure learning is culturally sensitive and engaging for learners and welcome participants from all backgrounds. Our programmes empower communities to learn new skills and develop their nutrition knowledge. Most recently, we have worked closely with Woman Connect First to adapt during the covid-19 pandemic to continue delivering their nutrition programmes using online methods.
What's on near me?
Click on the area where you live to see what is on near you